Roma-Transfer-NCC offer a full-servicei car rental with driver (NCC).Our service offers competitive rates, and 
is specially tailored for business and general public. It is reliable and on time, and it includes:
> Car rental service for turists and businessmen.
> Transfers to and from Airports, Ports, and Railway stations.
> Car service for general public, Companies, Public Administration, Embassies, and Institutions.
> Car service for events, congresses, meetings, cerimonies, gala dinners, marriages, film services.
>24/7 service.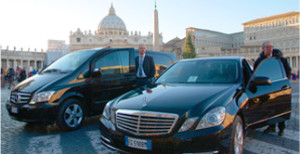 By using the site, you accept the use of cookies on our part. - Utilizzando il sito, accetti l'utilizzo dei cookie da parte nostra. Cookie Policy
Questo sito utilizza i cookie per fonire la migliore esperienza di navigazione possibile. Continuando a utilizzare questo sito senza modificare le impostazioni dei cookie o clicchi su "Accetta" permetti al loro utilizzo.